Here is a glimpse of some of the work we have done to finish the 24×24 addition that was on the house when we bought it in 2010. In the photo below, it is on the right with the two "roof windows". You can see my beloved late "Dally" (Dallas) pup running in front of it.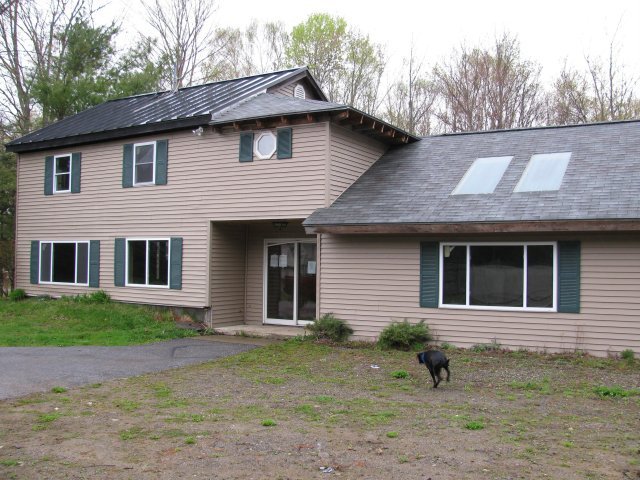 When we purchased this house, we sectioned off about 7 1/2 feet of the 24×24 addition to use as the laundry / storage area. We left the rest of it unfinished and over the last 12 years, the space filled with "stuff".
This summer (2022), we decided to clear out all the stuff and finish the room to extend our main living area and add an office. Unfortunately, we do not have a photo of the room before clearing it out. Trust me, it was a lot of STUFF! At the same time, we decided to finish the laundry area and complete a secret room above under a vaulted ceiling. We originally wanted to have a vaulted ceiling over the living/office area with a loft over the laundry room looking down to the living/office room. However, we ditched that idea and went with the flat ceiling. However, we decided to turn the loft idea into a secret room instead.
Office and Living Area
View the photo gallery to see what we are doing for the office and living area, the main section of the addition. Link to Office Gallery goes here.
Laundry Room
Photos of work being done in the laundry room. Link to Laundry Gallery goes here.
Secret Room
A sneak peak at a secret room we are finishing above the laundry area with access through a small door (hobbit size) from a room upstairs. Link to Secret Gallery goes here.